PAN Card a very important document for Indian Citizens which is issued by the income tax department of India. Recently I posted two article and they were how to apply for new PAN Card and the second one was how to search AO Code for new PAN card. But now have you lost or damaged your PAN Card? If yes then don't worry because I will be helping you to get new PAN Card of lost or damaged. We will follow the Process to reprint PAN card online, this process can be done when you lost your PAN Card, you Damaged it or when it is stolen.
How to get New PAN Card if Lost or Damaged?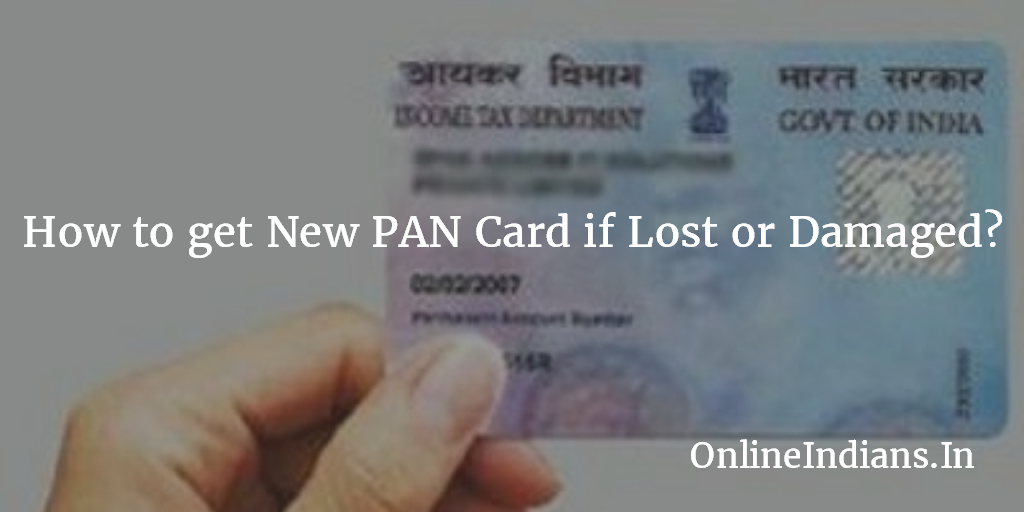 To get new PAN card and get a reprint of your PAN Card you need to first of all visit NSDL website. You can use the link provided here, the NSDL website will get opened in new tab of your web browser.
After you open NSDL website you need to click on Reprint of PAN Card, you can refer the image below.

After you click on that link a new window will open in your web browser and in that you need to click on Online Application for Changes or Correction in PAN Data (PAN Change Request Form). But make sure you read Do's and Don'ts. You can refer the image below.

After you use click on that link a new page will open and the guidelines will be shown to you, read them carefully. When you complete reading that scroll down and from there you need to select your applicant category like show in the image below.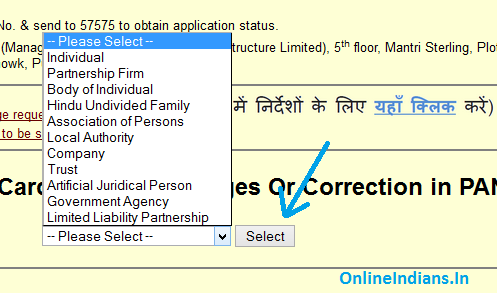 Now you will be given the form which you need to fill to get new PAN card if lost or damaged. The form will be looking as shown in the below.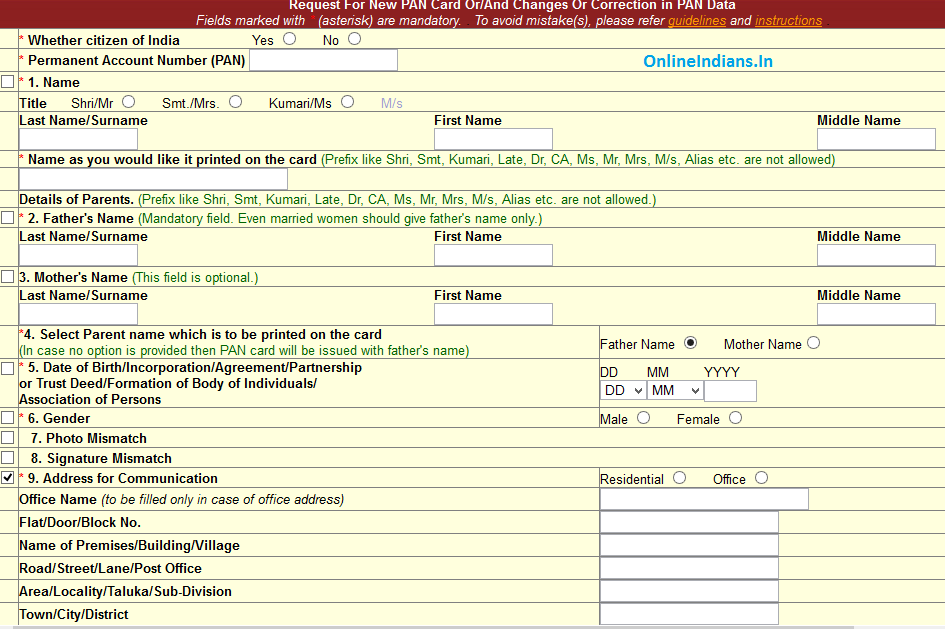 As you want a new PAN Card in replacement of your old PAN Card you need to enter your existing Permanent Account Number which is your PAN Card number in the space provided. Fill all the details which is asked in the form.
You need to make a payment of Rs.107, it can be payed through Netbanking, Credit Card, Debit Card, Demand Draft or Cheque. When you complete filling the form you need to click on Submit, after that you will be provided Acknowledgement number.
Take printout of the Acknowledgement form you just filled, past two recent photographs of your in the space provided. Make your signature in the place provided in the space given for your signature in the form.
Now you need to post the form to NSDL Office, but before that you need to enclose your self atested documents which were mentioned in the guidelines inside the Envelop. If you are making payment of Rs.107 by Demand Draft or Cheque you need to enclose them in the envelop as well. The heading of the Envelop should be written as "Application for PAN CHANGE REQUEST- your Acknowledgement number".
NSDL address: Income Tax PAN Services Unit, NSDL e-Governance Infrastructure Limited, 5th floor, Mantri Sterling, Plot No. 341, Survey No. 997/8, Model Colony, Near Deep Bungalow Chowk, Pune – 411016.
As soon as your envelop reaches NSDL office the process gets started and you will be notified by an mail to the E-mail address you filled in the form. If you have any doubts you can comment below I will respond to your comment as soon as possible. You can contact NSDL by call on this phone number: 02027218080.