When you try to activate internet banking in Canara bank then you will be asked to enter many details about your account in the net banking activation form. You have to enter details like your Current/Saving Account Number, ATM cum Debit Card Number, Registered Mobile Number and along with these details you have to enter your customer ID as well. But if you are unable to find it or facing any kind of difficulties to find this then I will help you out to find Canara Bank Customer ID.
How to Find Canara Bank Customer ID?
In this article of mine, I will tell you where you can find your customer ID easily all you have to do is find your Canara Bank passbook.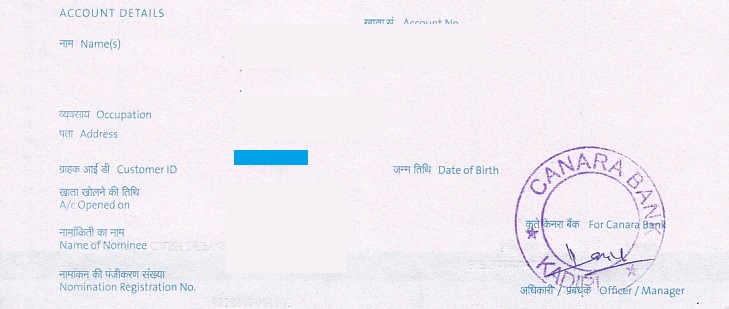 Find your bank passbook and open the first page of your passbook, you will find your Customer ID printed on the first page. I have attached an image above to help you find the exact place where this is printed in your passbook refer that image.
The place where you can find your Canara Bank customer ID is highlighted with blue color. Now you can use this to activate internet banking. If you have kind of questions or doubts in your mind then you can leave your comment below, I will make sure that you will get a reply to your comment as soon as possible.
Related Read: How to Unlock Canara Bank Internet Banking User ID?