Credit cards these days are trending, we use credit cards the most to make the payment to the merchants from whom we purchase products and services. These cards can be used both offline and online to make payments and are quite safe as well because there is no need to carry paper cash with us while we go for shopping outside in local market etc. The use of credit card is safe till you don't share your PIN with anyone, and I am sure you know but still let me tell you one thing. Citibank or any of the bank will never call you or send you an E-Mail asking you your personal details like PIN etc.
So if in case you get any such calls in future then make sure you don't share any such personal information about your credit card or debit card (ATM Card) and even Internet banking account details. In this guide on Online Indians we will tell you the 5 ways which you can use to pay Citibank credit card bill. You can use any of these 5 ways which we have mentioned in this guide to make the payment of your Citibank credit card due.
How to Pay Citibank Credit Card Bill?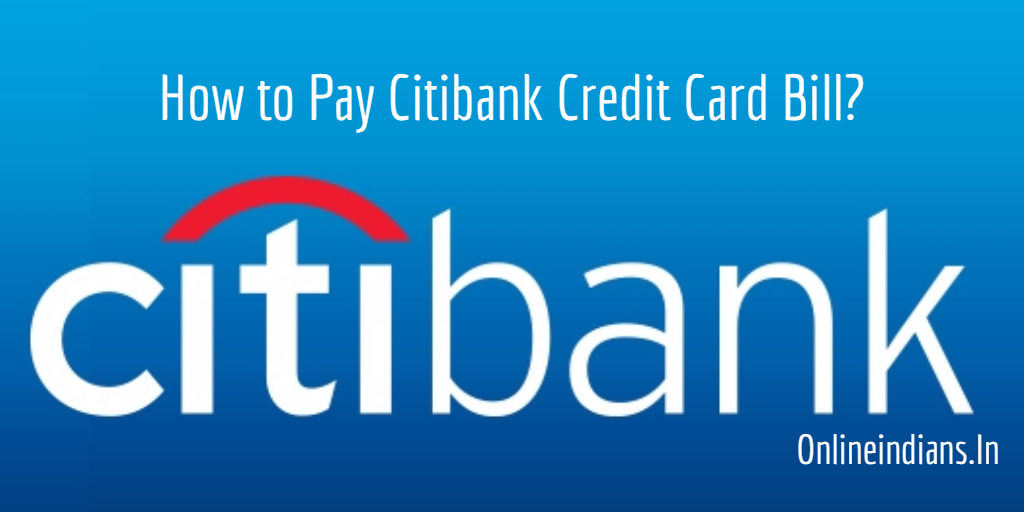 Now let us get started with this article and checkout the 5 ways about which we are talking. You can use any of these 5 methods to pay your outstanding due amount.
NEFT and RTGS: To use this feature you should have an active internet banking account. Just login into your account on your computer and add your credit card as beneficiary. Enter all the card details such as card number, name will be as your name displayed on your card. The bank name will be Citibank N.A enter all the required details asked, review all the details you have entered and pay your bill.
E-Pay: This is an easy option with which you can pay your bill using any of the other bank internet banking account like ICICI, State bank of India or any other bank. To use this option logon to https://pgi.billdesk.com/pgidsk/pgijsp/citicard/citibank_card.jsp the payment through this option is processed under very high security. Enter all your details and make the payment.
VISA money transfer: You can use this feature to make the payment using other bank's account to your credit card.
Electronic Clearance System (ECS): We recommend you to use ECS to pay your bill, it maybe credit card, loans or anything. For this you don't have to remember the last date to pay the bill. Just set the date on which you want to make the payment and you are done with it. Your bill will be payed by automatic debit option from your account. But for this you have to fill ECS form with the bank and enter the bank account details for which you want to enable ECS facility.
Citi Mobile App: You can use their mobile app to make the payment of your out standing due amount. This is very convenient way to make the payment.
So these were the 5 ways with which you can pay Citibank credit card bill, we hope you are clear with all everything mentioned in this guide. But in case you have any kind of doubts then you can leave your question by commenting below.