Savings we all want to do savings some of us want to save money for a new car and some may have some other reasons, there are unlimited reasons why one will want to save money. But monthly saving we ignore it sometimes and that's not a good habit, if we save now we can enjoy later. In this article on Online Indians, I will tell you about Recurring deposit which is an investment option in which you will get some extra percent of interest when compared to savings bank account.
I am not telling that we don't get more interest rates on Saving bank accounts, there are some banks which are playing very good when it comes to offering interest on saving bank account. Recently I was reading some stuff to know more about the interest rates we get on various investment options I came across RBL Bank's Advantage account in which you will get 7.1% Per annum along with some amazing features of debit and credit cards.
If you want to avoid the restrictions which are applied on your money in Fixed deposits and Recurring deposits then I strongly recommend you to go to the RBL Bank branch which is near to your location and open an Advantage saving bank account with them. By doing this you will get 7.1% per annum interest on your savings and with that, you can withdraw your money whenever you want there is no tenure involved in this. But if you are ok with the tenure or lock in period then you can go with recurring deposits.
However, RBL Bank will give you 7.1% per annum but in Recurring deposits you will get more than that but there is a tenure or lock in period in RD Accounts. In simple words, we can term this lock in period as maturity time. Before we proceed to the further part of this guide I think we should discuss the advantages and disadvantages of RD accounts in India.
Advantages of Recuring Deposits:
First, let us check out the advantages which you will get if you open an RD account and invest in that account.
When you invest in RD account then returns are fixed and with high-interest rates when compared to savings bank accounts.
With RD accounts you can invest systematically like if you want to buy a car next year you can invest money for your car in this account and you will get the maturity amount at the time of buying a car.
Even recurring deposits offer fixed interest rates but the interest rates do not fluctuate like it does in Fixed deposits, it says fixed interest.
There will be no TDS applied on the interest earned, after maturity, the full amount + full interest earned will be deposited into your account.
When you open any of the banks which offer recurring deposit accounts in India then your RD account will be linked with your saving bank account. You can easily transfer money from your SB account to RD account every month, there is no need to visit bank branch every month.
Disadvantages of Recurring Deposits:
So now check out the disadvantages.
These accounts are not like your simple SB accounts where you can deposit or withdraw money as you wish. The money can be withdrawn only after maturity.
When you are opening an RD Account in India the bank will ask you the amount which you will be depositing in your Recurring deposit account every month. That amount is fixed and can't be changed.
There are many other investment plans which offer better interest rates when compared to RD Accounts.
Recurring Deposit, RD Interest Rates, RD Account in India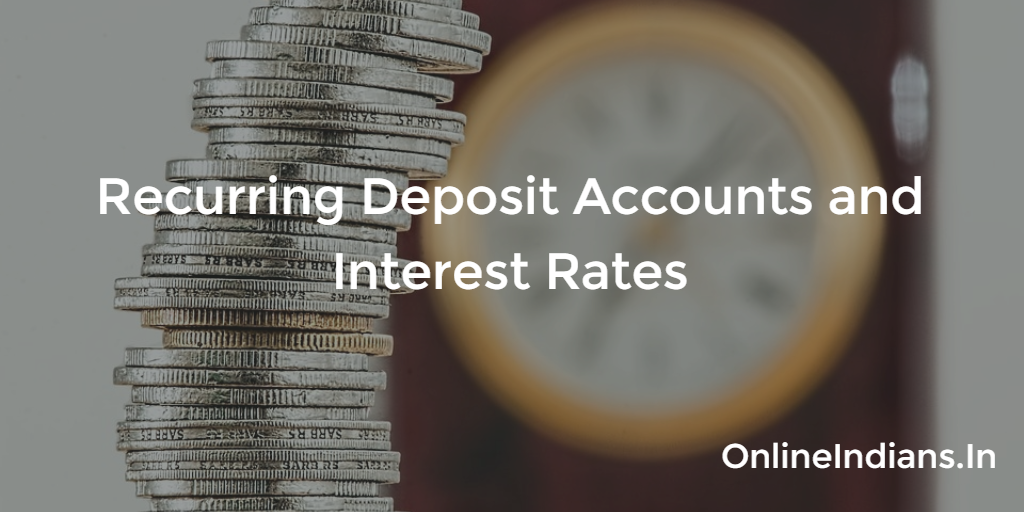 Now let us get started and check out the banks and RD Interest rates of various banks in India. I have arranged them in Ascending order of the interest rate they provide.
| | | |
| --- | --- | --- |
| Bank. (Financial Institution) | Maturity Time | Interest Rate % Per Annum |
| Kotak Mahindra Bank | 1 Year | 7.90% |
| Yes Bank | 1 Year | 7.75% |
| State Bank of Hyderabad | 1 Year | 7.75% |
| IDBI Bank | 1 Year | 7.75% |
| Punjab National Bank | 1 Year | 7.50% |
| HDFC Bank | 1 Year | 7.50% |
| Axis Bank | 1 Year | 7.50% |
| State Bank of India | 1 Year | 7.25% |
So these are the latest RD rates I have tried my best to get the latest % rates but still I recommend you to confirm the rates with the bank officials. But let me tell you one more thing if you open an RD account in Post office then you will get 8.40% of interest rate and the maturity time is 1 Year.  🙂