When we travel to other countries they main thing we need to have with us is 'money' and without money it's damn difficult to stay not only in foriegn country where are are travelling but also in any part of this world. But while travelling to other countries we can't keep whole money in paper cash if we do so, then we have to be very careful to avoid any kind of loss or theft of money. But other than paper cash we can use International debit cards to make the transaction.
You can even use local currency cash of the country where you are travelling which is nothing but the paper cash, travelers cheque, Credit cards and prepaid travelers card. You can opt in any of these when you are travelling to other countries, but in this article we will tell you about the 26 international debit cards which you can take from the banks which are operating in India. And we will tell you the benefits and features on these international debit cards as well. So let's get started and check out the benefits and features of International debit cards.
Benefits and Features of International Debit cards.
You can make transactions in any of the currencies, wherever you are travelling you can make transactions in the local currency of that country.
It's quite safe to carry debit card than paper cash which will decrease the problem of loss and theft of cash.
We can't travel in other countries with zero paper cash, so you can withdraw money from the ATM machine in local currency.
The debit card will be PIN secured which means it can't be used without entering the PIN code.
In case you loose your International debit card somewhere you can block your card very quickly.
How can you get International debit cards in India?
So this maybe the question in your mind right now. These days most of the banks which are operating in India offer international debit cards when you open bank account with them. But you have not received the international one then you can apply for an card replacement and replace your current card with an international debit card.
Which banks offer international debit cards in India?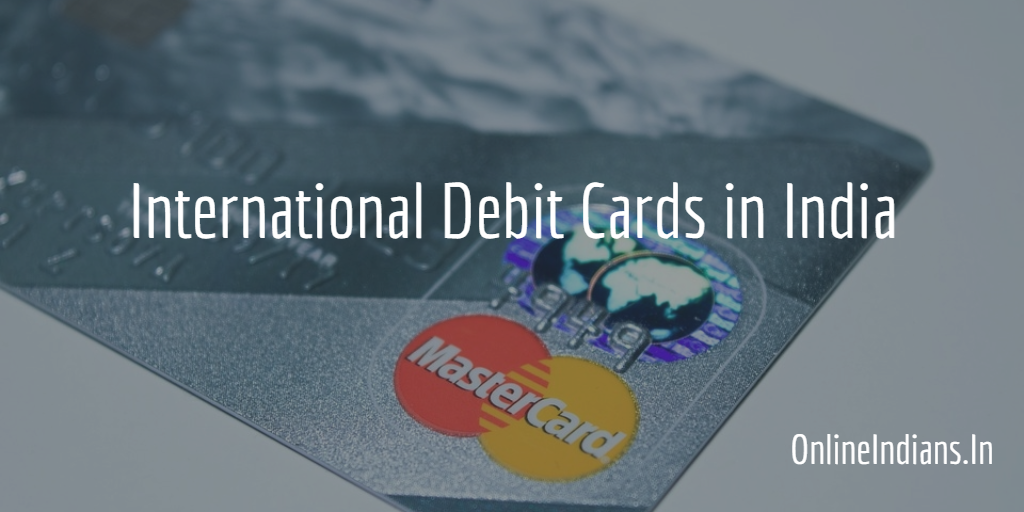 Now you know the benefits of international debit cards and also how you can get them. So lets move on further and check out the banks which issues these cards in India. We will display 20 cards to you which you can find below.
| | |
| --- | --- |
| Bank Name | International Debit Card Name |
| State Bank of India | Global International |
| Axis Bank | Visa Classic, Burgundy World, Titanium Prime, Titanium Prime Plus, MasterCard Classic, Smart Privilege. |
| ICICI Bank | Visa Platinum, Sapphiro, Rubyx, Coral, Unifare DMRC Platinum, Sapphrio Business, Visa Signature, MasterCard World, Platinum Identity Chip, Privilege Banking Titanium, Privilege Banking Gold |
| Indian Overseas Bank | International Visa |
| HDFC Bank | Jet Privilege World, EasyShop Platinum, EasyShop Titanium Royale, EasyShop Titanium, EasyShop Business. |
| HSBC | Advance Platinum, Premier Platinum. |
So these are the bank operating in India which can issue an international debit card for you, choose the card wisely and have an pleasant journey. In case you have any kind of doubts you can leave your comment below.