Credit cards these days are trending, we use credit cards the most to make the payment to the merchants from whom we purchase products and services. These cards can be used both offline and online to make payments and are quite safe as well because there is no need to carry paper cash with us while we go for shopping outside in local market etc. The use of credit card is safe till you don't share your PIN with anyone, and I am sure you know but still let me tell you one thing. HDFC Bank or any of the bank will never call you or send you an E-Mail asking you your personal details like PIN etc.
So if in case you get any such calls in future then make sure you don't share any such personal information about your credit card or debit card (ATM Card) and even Internet banking account details. In this guide on Online Indians we will tell you the 7 ways which you can use to pay HDFC credit card bill. You can use any of these 7 ways which we have mentioned in this guide to make the payment of your HDFC credit card due.
How to Pay HDFC Bank Credit Card Bill?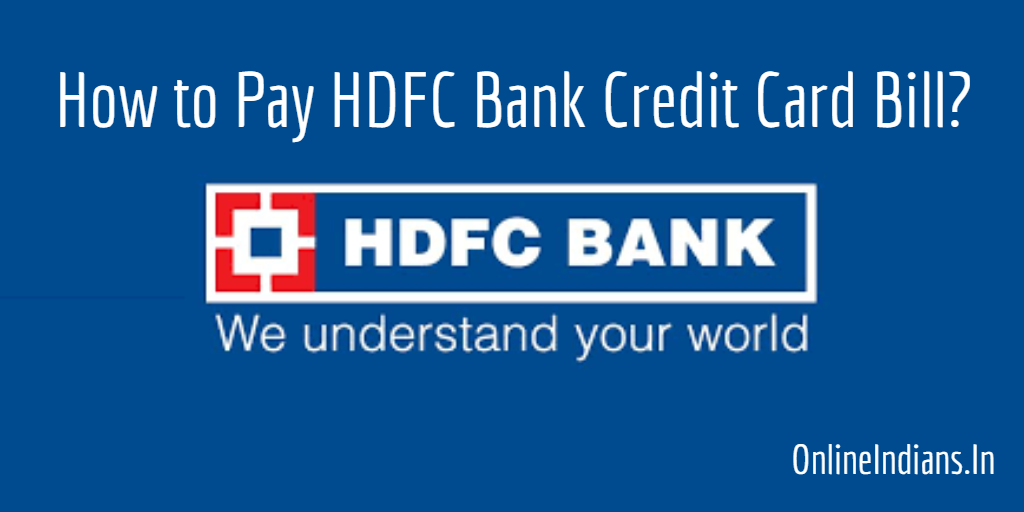 Now let us get started with this article and checkout the 7 ways about which we are talking. You can use any of these 7 methods or ways to pay your outstanding due amount.
Internet Banking Facility: You can pay HDFC credit card bill using the internet banking facility, but to make use of this way you should have an active internet banking account. Login into your account and link your credit card to your Netbanking account. To do this you will have to enter your ATM PIN code.
HDFC Mobile Website: If you want to pay your bill and can't access your desktop or laptop currently, then you can make use of their official mobile website. To do so you have to logon to https://m.netbanking.hdfcbank.com/netbanking/ keep your user ID and password ready, they will remain the same which you use on your desktop computer. If you are using Android smartphone I recommend you to use Google Chrome and in case of iOS device then Safari works best for making secured payments.
HDFC Mobile App: If you don't want to make use of Mobile website then mobile app is an awesome choice, you can install it on any of the Android or iOS device and make the payment.
Cheque Payment: Just write an cheque which is payable to HDFC Bank Card (your 16 digit card number) and deposit it in any of their branch across India.
Cash Payment: To do so you have to visit any of their branch and fill the pay in slip. Enter your card details and make the cash payment.
ATM Center: You can visit any of the ATM Center across India which are owned by HDFC bank and make the payment from your Savings or Current account.
AutoPay: This is most convenient way to pay your bill payments, using this you can pay your Loan as well. But for this you have to fill an Auto Debit form by visiting your home branch. You can instruct the bank to pay the minimum due amount or total amount from your account. The amount will be automatically debited from your account.
So these were the 7 ways with which you can pay HDFC credit card bill, we hope you are clear with all everything mentioned in this guide. But in case you have any kind of doubts then you can leave your question by commenting below.