State Bank of India Online which is an very important feature which is offered by the bank to their account holders, and these days everyone uses this feature. This feature allows you to send money, receive money, make Fixed Deposits, Create Virtual Credit Cards and much more by sitting at home. All you need is an internet connection, but some people face one problem which is their internet connection is slow and can't handle SBI Online feature. If you are one of them then don't worry because I have a solution for you, I will tell you how to use SBI Online on Slow Internet connection.
But before that I would like to share few of the articles about State bank of India which are published on Online Indians before this one. You can read these by click on the name of the article and it will be opened in new tab of your browser. The first one is about how you can change login password of SBI Online in which you will find information about how you can change login password (The password of net banking) of your account. And the second one is about how you can change mobile number in SBI Online.
How to Use SBI Online on Slow Internet?
So now let us get started with this article and check out the method by which you can enjoy the features of internet banking and use SBI Online on Slow internet also.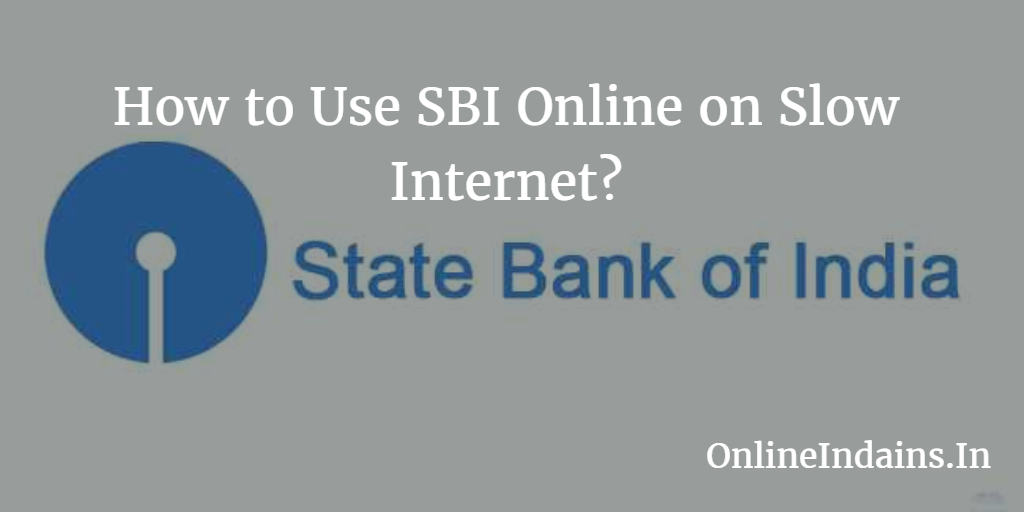 State Bank of India is a very popular and trusted bank of India which is one of the state owned bank, they understand their customers (account holders) very well. While designing their official SBI Online website they have kept the slow internet users in their mind too. And for them they have designed a SBI Online LITE version, which is very lite and opens very quickly even if you are using a slow internet connection. They steps you need to follow to use SBI Online on Slow Internet (LITE Version) are mentioned below.
First of all you need to open Official website, you can use this link provided here, it will redirect your to official webpage in new tab of your web browser.
After you visit their Official website, in the Personal Banking section you will find LOGIN lite click on that.
As soon as you click on that they you can see the page loading very fast as it is a lite version, enter your username and password and login into your account.
When you login your are done with it, you are now using the lite version which is actually a Mobile Site on your desktop or laptop computer.
Final Words. 
So this was how you can use SBI Online on slow internet connection, by using the LITE login feature which is an Mobile site for usage of Internet banking on slow internet. If you have any doubts in using this feature of State Bank of India you can leave your comment below.  🙂