SBI which is one of the state owned bank of India and even one of the biggest and most trusted bank of India, many people own an account in State Bank of India and even people prefer SBI first when they think of opening an bank account for them. They prefer because of the trust which State Bank of India have built in India and even because of the features they provide to their account holders. SBI Online is also one of the very important feature which they are providing to their account holders. And if you are searching for an article online in which you will get information regarding how you can change Email Address in SBI Online, then you have been landed on the right webpage. Because in this page you will find information regarding the procedure which you need to follow in order to do that.  🙂
But before I tell you the procedure to follow to change email address in SBI online I would like to share few article links with you people about State Bank of India which are published on Online Indians. The first one among them is how to do balance enquiry in SBI in which you will find information about how you can do balance enquiry i.e checking the amount of balance which is remaining in your savings or current account whichever you hold in the bank. And the second one is about how to change address in SBI bank account, in which you will find information about how you can change address of your account.
How to Change Email Address in SBI Online?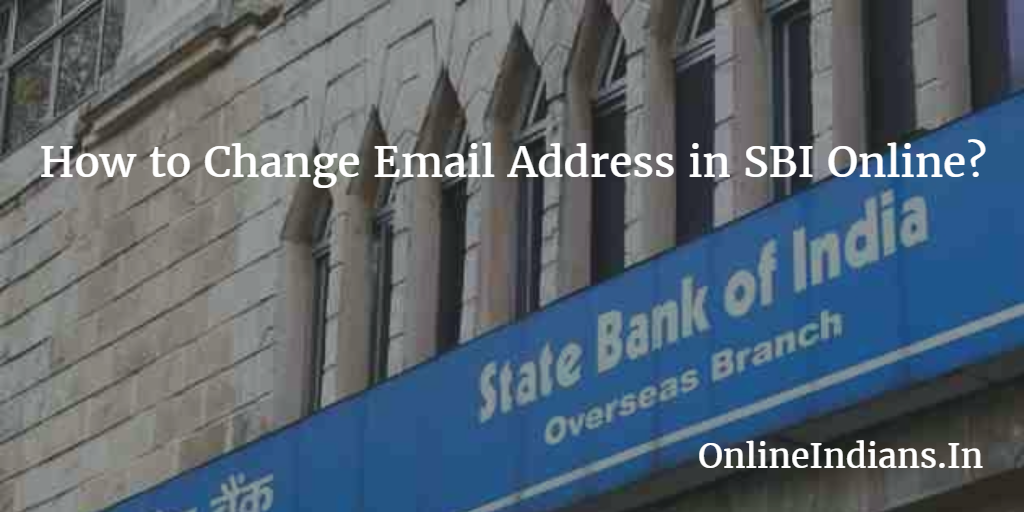 So now let us get started with the article and check out how you can change email address in SBI Online, it's really simple you just need to make 3 to 4 steps and you are done with it.
First of all you need to login into your State Bank of India Online account, you can use the link provided here, it will take you to official bank website.
Enter your username and password and login into your account.
Now what you need to do is you need to click on Profile button which is provided, you can refer the image inserted below to do so.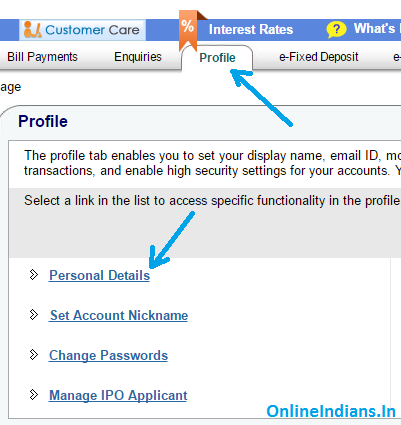 After that click on Personal Details as shown in the image above.
You will be asked to enter your SBI Online Profile password, after you enter your profile password click on Submit.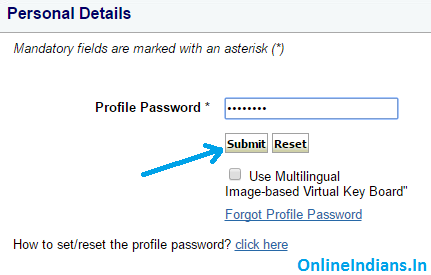 After you click on submit your details will be shown to you on your screen like Display name, Email address and Mobile number. Click on Change which is just in front of Email address.

Now you will be asked to enter you new Email address, enter it and make sure you check it twice because its very important thing of internet banking. You can see the image inserted below.

At last you need to click on Submit for the last time and you are done with it.  😉
If you own State Bank of India Credit Card then I have few articles for you,
Final Words.
So this was how you can change Email Address in SBI Online, I hope you got all the information regarding how you can change email address in internet banking account. For more details and offline process to change it you can visit your home branch.  🙂