State Bank of India which is one of the biggest bank operating in India, most of the people think about State Bank of India or better know as SBI while opening a bank account for them. It is because of the reliability and the features which are offered by State Bank of India to their customers. If you are searching online for an article which will help you to find CIF Number in State Bank of India then here the right guide for you.
Because in this State Bank of India guide, I will tell you the procedure which you need to follow the CIF number of your SBI bank account. Basically, CIF stands for Customer Information File in which all the information regarding the account holder and the account is stored. This CIF is frequently updated by State Bank of India to keep it up to date about the latest transactions which took place in your bank account. There are a number of uses of this CIF number but this number is very important if you want to transfer your bank account from one branch to another.
In this guide, I have mentioned two methods by which you can find CIF number in State Bank of India account, and they are online and offline you can use whichever you like.
How to Find CIF Number in Sate Bank of India?
Now let us get started and check out how you can find CIF number of your bank account.
How to Find CIF Number in SBI Bank Passbook?
First I would like to tell you about the offline method to find CIF number and it is by using your SBI Bank Passbook.
You will get your CIF number mentioned on the first page of your bank passbook, all you have to do is find your passbook and open the first page of it.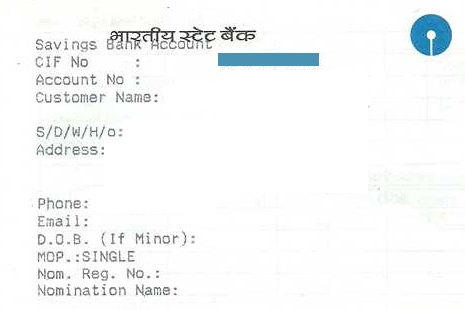 Just above your account number, you will find your CIF Number mentioned. Refer the image which is embedded above.
How to Find CIF Number in SBI Bank Account Statement?
You can find customer file number online as well and it is by using internet banking feature of the bank. Previously you should have activated internet banking for your account to proceed with this method.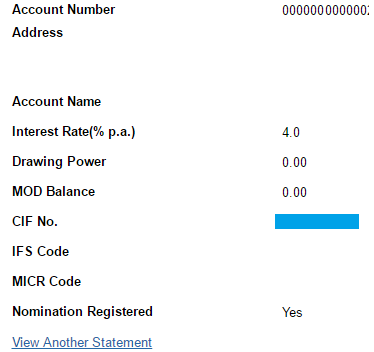 The first thing you have to do is open the Online SBI website and sign in into your internet banking account.
Once you successfully sign in, view or download account statement of the bank account whose CIF number you want to find.
If you don't know how you can view account statements in SBI online then you can follow this link to read about it.
You can find your CIF Number in the bank account statement.
How to Find CIF Number by Calling Customer Care?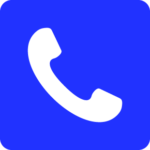 If you don't have to find your bank passbook of login into your internet banking account then don't worry you can still find your customer file number.
Thinking how?
It's by calling the customer care center of the bank, I have mentioned the steps below.
Call SBI customer care on their toll-free number: 1800 425 3800.
Once you call them, get your call connected to speak with customer care executive by selecting options using IVR.
Tell them that you want to know your CIF Number, they will ask you few things like your bank account number, name, address etc. for verification purpose.
If you answer all the questions correctly they will tell your CIF number.
If you want to read more about CIF Number then you can do that by following this link to Quora, you can read the same procedure for https://www.onlineindians.in/find-cif-number-state-bank-mysore/State Bank of Mysore here.
Still any problem? Comment below, I will solve it for you.