Saving bank account we all have one or two in one or two banks which are operating in India. Saving bank account is a basic need we can say, we should have one in which we can deposit the money we earn by doing business or work at an of the organizations. While keeping money in bank account is a safer idea than keeping it in a home lock but have you every wondered about the hidden services charges in Saving bank account? Yes, there are many hidden services charges which are involved in SB accounts.
20+ Hidden Charges in Saving Bank Account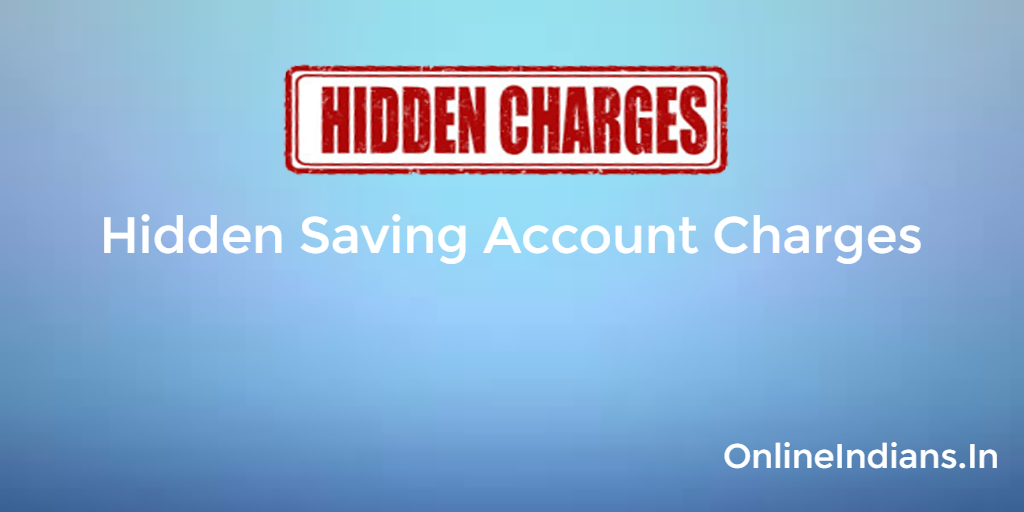 So in this article of mine, I will tell you 20+ hidden charges in saving bank accounts about which you don't know maybe. If you feel that I have missed out something in this article then please let me know what I am missing by leaving your valuable comment below.
1. Monthly Average Balance.
When you open a saving bank account in any of the banks operating in our country they will inform you that you have to maintain some amount of the average balance every month. Like if you open an account Axis Bank then they tell their customers to maintain Rs. 10,000 average. If you don't maintain that average balance they will charge you some penalty. There are some banks which do not tell their customers or account holders to maintain average balance. (zero balance account)
2. Debit Card Annual Charges.
Debit card or ATM card is what matters a lot for us, we use it to withdraw the money from our bank accounts. All the banks charge an annual debit card maintenance charge which varies from Rs. 100 to Rs. 500 per year this charge is normal in all banks.
3. Debit Card Usage Charges.
After annual maintenance charges here comes one more charge which is related to your debit card. According to a rule passed by Reserve Bank of India banks can charge Rs. 8 to Rs. 20 per transactions if you use your Debit card for more than 5 times in a month.
4. Bank Branch Visit Charges.
Sounds weird but yes banks charge you when you make a transaction by visiting their branch this charge may vary from Rs. 50 to Rs. 200. So you can say the money charged for bank branch visits by making transactions online using internet banking facility.
5. Online Money Transfer Charges.
Internet banking helps us a lot to make transactions and to send money from our bank account to another bank account. While it gives us freedom to do so they are not free when you use RTGS, NEFT or IMPS to transfer money then the bank will charge you Rs. 5 to Rs. 25 per each transaction.
6. SMS Alert Charges.
Whenever a transaction takes place in your bank account like the deposit of money, withdrawal of money or any kind of online transaction you get SMS from the bank. However, this was started as account security feature but now banks are making money with this feature as well.
7. Bank Statements.
When applying for a credit card or bank loan you will have to provide your bank account statements. If you visit your home branch and ask for your bank statement they will provide you the statement but they will charge Rs. 50 to Rs. 150 for providing you the bank statement. To avoid this charge make use of internet banking facility to get bank account statements.
8. Cheque Payment Stop Charges.
If in case you stop the payment of any cheque which you issue bank will charge you Rs. 50 to Rs. 100 per each cheque payment you stop.
9. Cheque Bounce Charges.
Whenever you issue a cheque and it bounces they banks will charge both the parties, what I mean is they will charge the person who has issued the cheque and also the person who submitted the cheque for clearance. This charge may vary from Rs. 100 to Rs. 500.
10. Additional Cheque Book Request.
All the banks in India offer some amount of cheque books for free but if you order additional cheque books then they will charge you for the extra cheque books.
Also Read: Highest Interest Rates on Saving Bank Accounts.
11. Debit Card Replacement Charges.
If in case you lose your debit card somewhere or damage it then the bank will charge you money to replace the debit card. The charge is based on the debit card which is being replaced, but generally, it costs around Rs. 100 to Rs. 500 per replacement.
12. Password or PIN Resetting Charges.
If you forgot your Debit card PIN number or Net banking password you can reset them but banks will charge you some amount when you reset your Password or PIN number. And this charge varies from bank to bank.
13. Debit Card Payment Decline.
When you are shopping and we use our debit cards to make the payment if electronic payment or swipe machine is available at the place where we are shopping. And even when we are using or debit card online if in case the payment gets declined by the bank due to insufficient funds in the account then you will be charged for that.
14. International Usage of Debit Cards.
These days we get the international debit cards and almost all the banks provide us the debit cards which are used in other countries as well. But when you use your debit card internationally then you will be charged for that usage, the charge depends on the country where you use it. This charge is quite normal and all the banks charge us for international use of debit cards.
15. Account Closure Charge.
When you open a bank account in any of the banks it's free but this does not remain the same when you visit your home branch to close the account. They will charge you for this but most of the banks charge this only if you are closing your bank account within a year of opening it.
16. Account Transfer Charges.
If you move to a new city then you can get your old bank account whose home branch is in another city. But you will have to pay the bank to get your account transferred from your old branch to new branch.
17. Wrong Address Charges.
If in case you have requested a new debit card or a cheque book from the bank, they will send you that by courier if that courier returns back due to wrong address provided then you will be charged for that.
18. Balance Certificate Charges.
When you ask your bank to provide you your balance certificate then they will charge you Rs. 100 to Rs. 500 to issue this certificate.
19. Interest Certificate Charges.
Just like balance certificate even if you as your bank to provide you interest certificate you will be charged Rs. 50 to Rs. 250 to issue this certificate.
20. Attesting Charges.
Many times we have to visit our home branch to attest our address or signature when we do so banks will charge us for that. In the case of State Bank of India, they charge Rs. 150 to attest signature.
21. Redeeming Reward Points.
These days many banks are in association with Payback and many other companies who reward us for the money we spend using out internet banking and debit card. When we wish to redeem those reward points banks will charge us for this too.  🙂
Also Read: Recurring Deposit Interest Rates.
So these were 20+ hidden charges in Saving bank account if you feel I have missed out any of the charges please let me know by commenting below.