After demonetization in our country, our honorable prime minister Shri Narendra Modi is asking all of us to move towards the digital way to making payments. (using electronic payments) However, according to some economic experts, India can't make 100% of its payments by using digital payment methods but still, we all should try our best to make the payments to the merchants from whom we purchase goods and services by using digital payment methods. There are many benefits of using digital way of making payments like there is no need to carry paper money and no problem of change etc.
And now NPCI and IDFC Bank have come up with a whole new and amazing way of making payments in India and this is by using the Aadhaar Payment App. This payment idea is very good and one of the safest way to pay money. As the name of the payment app only tells us that everything is connected with Aadhaar card, let me tell you that in this way of payment method there is no need to carry any debit card, credit card or your smartphone. Everything you have to carry with you is your Aadhaar card or simply remember your Aadhaar number.
What is Aadhaar Payment App?
So now let us get started with this article and check out what exactly is Aadhaar Payment App is? This is a smartphone app and Aadhaar Linked Digital Payment method which is developed by NPCI, (National Payments Corporation of India) IDFC Bank and UIDAI. Do you remember those text messages which you use to receive from your banks in which they told you to link your Aadhaar Card number with the bank account?
The launch of this app may be one of the reasons why banks asked their account holders to link their Aadhaar card number with the bank accounts.  🙂
How to make transactions using Aadhaar Payment App?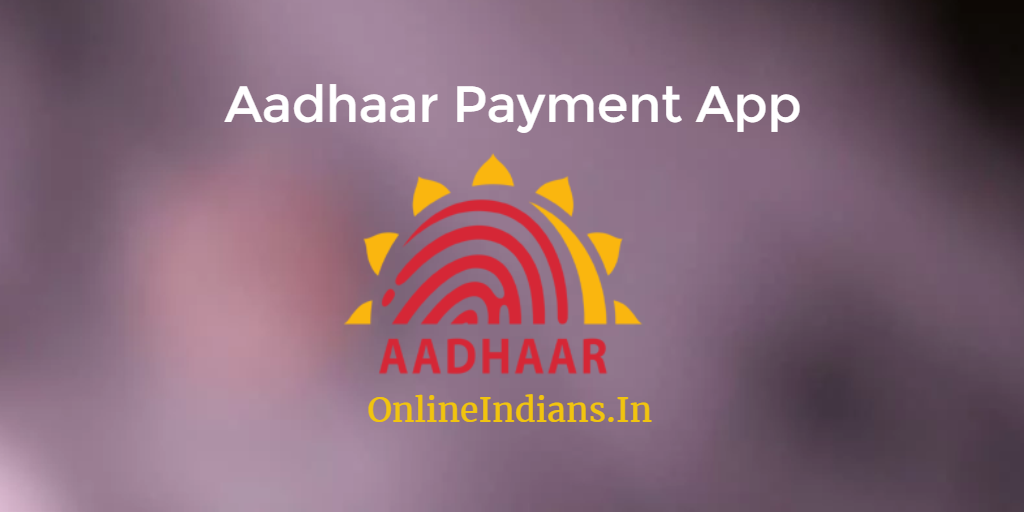 Now let us check out the procedure which you need to follow to make transactions or pay using Aadhaar Payment app.
Whenever you make any purchase of good and services tell the merchant that you want to pay using Aadhaar payment app.
The merchant will ask you to tell your 12 digits Aadhaar card number, he will enter that number in the payment app.
Once they enter your 12 digits Aadhaar card number, they will get a list of bank accounts which are linked with the Aadhaar card number provided.
Then you will have to select the bank account using which you want to pay the merchant.
And finally, you will have to give your fingerprint on the biometric device which will be available with the merchant.
Your fingerprint will be authenticated with your bank account, once it is authenticated successfully the amount will be debited from the account which you have previously selected and the merchant will receive the payment.
Note: If you want to make payment using Aadhaar Payment App then your Aadhaar card should be linked with your bank account. If you haven't linked it yet then do it as soon as possible to enjoy this new way of digital payments in India.
Benefits of Aadhaar Payment App:
When you make any payments using this app then there will be no service or transaction charges applied on you. Whereas if you make the payment with Debit or credit card then some charges will be applied.
There is no need to carry your Debit card, Credit card, Smartphone etc. You just have to carry your Aadhaar card, and if you remember or memorize your Aadhaar card number then there is no need to carry that as well.
The people who stay in rural parts of our country who can't afford a Smartphone and internet connection can also make use of the digital method to pay.
There is nothing like you should have downloaded and installed the app on your smartphone before making any in-store purchases. Even if you have not installed the app on your smartphone you can pay using this payment mode.
Now there is no need to install multiple payment apps like PayTm, Mobikwik etc. This can also help you reduce the number of apps installed on your smartphone.  😉
No need of remembering any kind of PINs, Passwords etc.
One of the most secure way of payment mode available in our beautiful India.  🙂
Why is this the most secure way of payment in India?
In the last point of benefits part, I have said that this is the most secure way of payment which is available in our country. You may be thinking why is it so? Then here is the answer when you are paying with the help of this app you just need to enter your Aadhaar card number and next give your fingerprint on the biometric scanner. Which means even if your Aadhaar card number is shared with someone they can't misuse it as the physical presence of the account holder is a must.
This is why I have mentioned it as the most secure way of payment in India. I hope you all liked this article do share your opinion with me by commenting below.