Credit Cards one of the mostly used and admired electric payment cards right now, It's hard to get an Credit Card by banks like SBI, HDFC or ICICI but there is one way to enjoy the usage of Credit Cards. I will be telling you about that now, and it's by creating Virtual Credit Card in SBI Online. In Internet banking feature of State bank of India, you will be getting an option with which you can create virtual Credit Card in SBI Online. The complete procedure to do so is mentioned in this article, I hope you will like this article and find it helpful for you.
Things to remember about SBI Virtual Credit Cards.
The currency will be in rupees.
You can use this card in India, Bhutan and Nepal.
You can use one card only once.
If you don't use the card after 48 hours of generation it will be cancelled (Expires) automatically.
There is no limit for SBI Virtual Credit Card, you can use it for big transactions as well.
You will not be charged by bank for any kind of generations, cancellations of the cards.
You can use one card for making only one transaction.
If you create SBI Virtual Credit Card of Rs.20000, and use Rs.10000 remaining amount will be deposited to your State bank of India account when card expires. You can do balance enquiry later on to check it.
Steps to create Virtual Credit Card in SBI Online.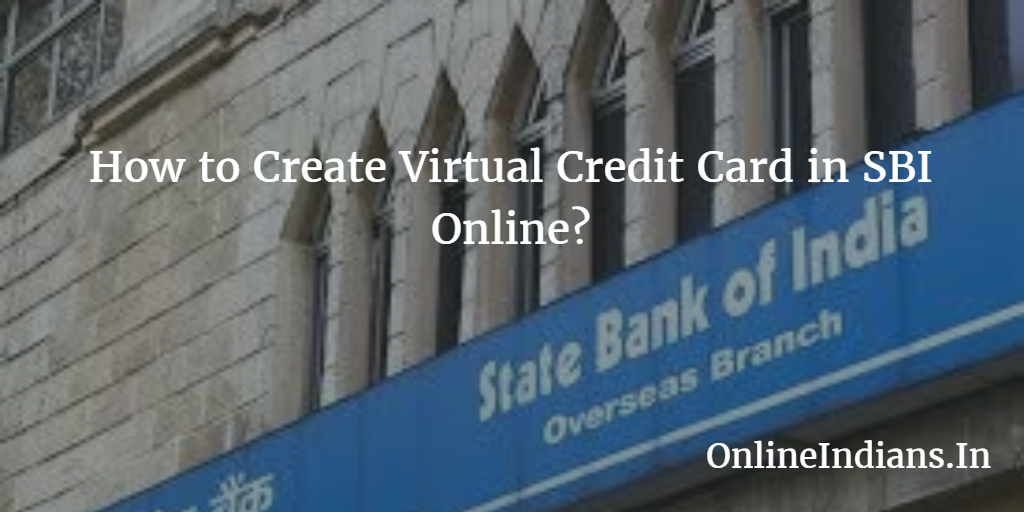 So now let us get started and read the procedure which you need to follow in order to create Virtual Credite Card in SBI Online.
First of all you need to login in into your SBI Online Account, you can use this link this one will redirect you to official bank website.
Enter your username and password and login into your account.
After that click on E-Cards which is in the navigation bar of Internet banking interface.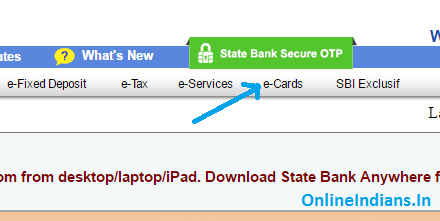 When you select E-Cards, you will get options to generate your card, you can refer the image which is inserted below.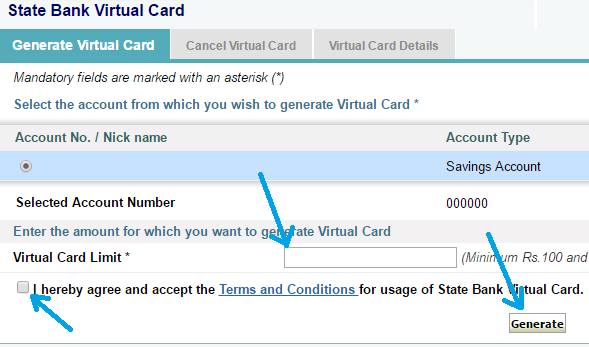 Now enter the amount of which you wish to generate card (Transaction Limit) and read the Terms and Conditions and after that tick the box given and at last click on Generate.
And you are done with it, you have successfully generated Virtual Credit Card in SBI.
If you have State Bank of India Credit Card I have guide which will help you about how you can pay out standing bills.