Are you a travel geek? that's great then we have collected some the best credit cards for travel with which you can get free miles and reward points on every travel purchase you make with credit card. These days CC issuers get in partnership with the airlines and travel websites, what happens by this is both the parties are in profit. In fact all three parties are in profile i.e. CC issuer, CC holder and finally travel websites and airlines. This create win-win situation for all, banks will attract customers to get their credit card, we customers get those cards to avail free miles and reward points. And hand in hand even travel websites and airlines are getting publicity.  🙂
These days everyone has a credit card with them, even a low income earner in India can get a CC for them. What I mean by low income earners is those people who earn Rs. 7,000 to Rs. 15,000 per month. And if your CC application is rejected by the bank you can even get Credit Card against Fixed Deposit in India. Just open an Fixed deposit and get your CC against your FD in the bank.
7 Best Credit Cards for Travel: Free Miles and Reward Points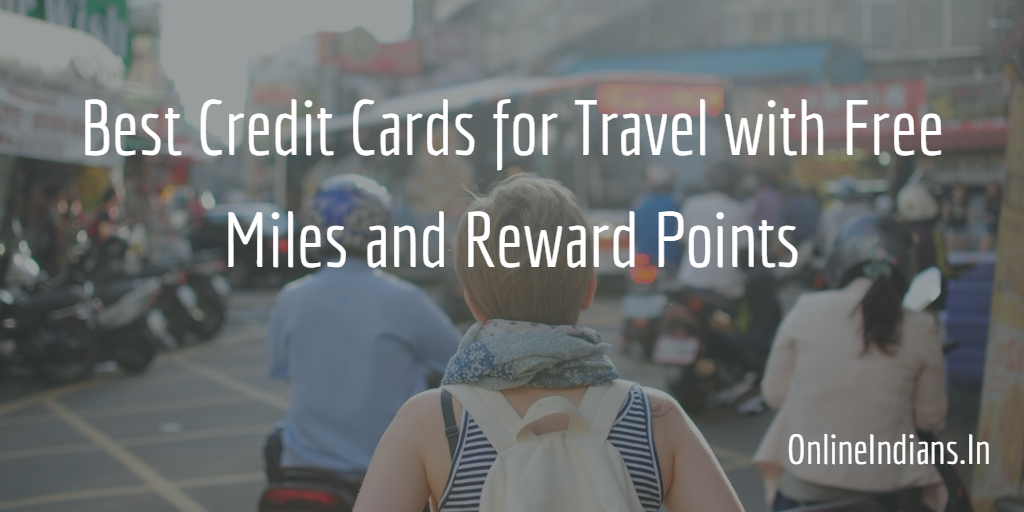 So here are the cards which give free miles and reward points on travel purchase you make on travel websites and apps, check them out.
Card Name
Travel Free Miles and Reward Points
Annual Joining Fee.
Axis Bank – Titanium Smart Traveler
Get 8 eDGE loyalty points on every Rs. 200 spent in India and 4 eDGE loyalty reward points on every Rs. 200 spent on Hotel, Holiday Packages, Airlines, Trians and Bus bookings
No Joining Fee
SBI Yatra Card
6X Reward Points when you spend on Yatra.com
Rs. 499
Air India SBI Signature Card
1) Get 4 Reward points on every Rs. 100 spent on Air India SBI Signature Card.

2) Get up to 90,000 bonus reward points annually.

3) Earn 20 Reward points on every Rs. 100 Spent on Air India tickets.

Rs. 4,999
American Express Platinum Travel Card
1) If Rs. 1.90 lacs is spent annually you will earn 3 IndiGo Vochers of more than Rs. 7,700.

2) If Rs. 4 lacs is spent annually you will get IndiGo vouchers worth Rs. 11,804 and Rs. 10,000 voucher from Taj Group

Rs. 3,500
HSBC MakeMyTrip Credit Card
1) 5 reward points for every Rs. 100 spent at MakeMyTrip.

2) 1.5 points for every Rs. 100 spent at other merchants

Rs. 3,499
Jet Airways ICICI Bank Coral Credit
1) You get 2,500 JP miles when you use them within 45 days of post payment of your joining fee.

2) When you renew your card you get 1,250 bonus JP Miles.

3) You earn accelerated JP miles when you book ticket on www.jetairways.com

4) These JP miles can be redeemed across Jet Airways and it's 20 airline parnters.

Rs. 1,250
HDFC Bank Regalia Card
1) When you spend Rs. 150 you get 4 reward points.

2) You get Taj Expicure Plus membership card with which you can get benefits on Taj Hotels and Resorts.

3) You can redeemed the points at www.hdfcbankregalia.com on any airline booking.

Rs. 9,999
Please note that you will have to contact your bank for the updated information and the updated annual fees, latest offers along with the terms and conditions which will be applied on you. We have an article in which you can find the best credit cards for Movie offers and Discounts, you can read it by using this link.  🙂