We Indians love movies and we are one of the biggest movie producers in the world, our movie industry generates whopping 150 Billion INR in 2016 as per Wikipedia's article. These days most of the us are booking movie tickets online on websites or using Apps on smartphones. We have many companies online who help us book movie tickets online like BookMyShow etc. they attract people by giving discounts and offers on the movie tickets. But these days we get more discount on using Credit Cards on these websites and apps. In this article we will be telling you about the 10 Best credit cards for movies with which you can get discounts and offers on the tickets you book.
These days everyone has a credit card with them, even a low income earner in India can get a CC for them. What I mean by low income earners is those people who earn Rs. 7,000 to Rs. 15,000 per month. And if your CC application is rejected by the bank you can even get Credit Card against Fixed Deposit in India. Just open an Fixed deposit and get your CC against your FD in the bank.
10 Best Credit Cards for Movies: Discounts and Offers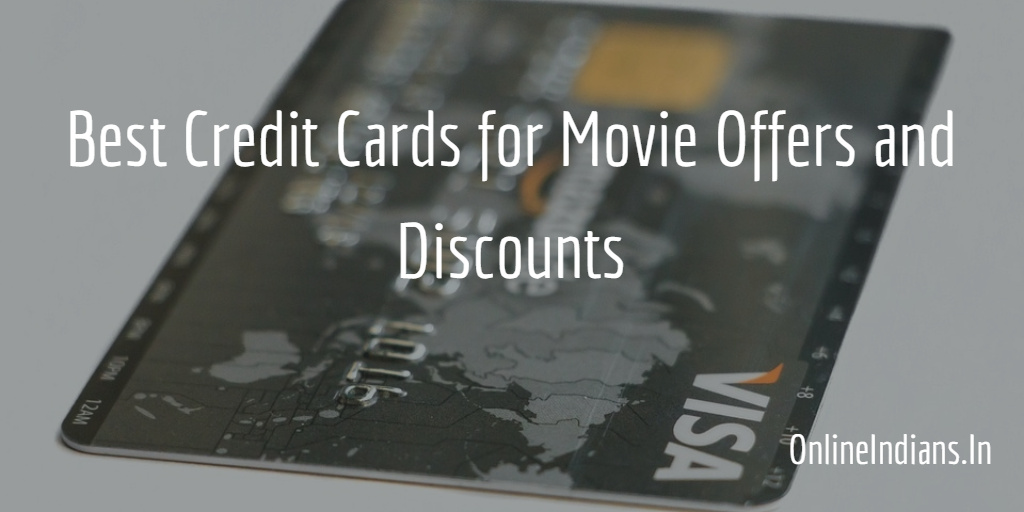 So here are the cards which give the best offers on movie tickets you book online on website or any of the apps which help up book tickets.
Bank Name
Credit Card Name
Discounts and offers on Movie tickets
ICICI Bank
Sapphiro, Rubyx, Coral, Carbon, Signature
Jet Airways ICICI – Sapphiro, Rubyx, Coral
Buy 1 get 1 free ticket, 2 free tickets per month on bookmyshow.
ICICI Bank
Diamant & Sapphiro Card
2 tickets free per month.
HSBC Bank
Offers are available on all cards
Get 2 movie tickets for the price of one on BookMyShow App, only on Saturdays show.
Kotak Mahindra Bank
VISA Infinite or Signature
Get 2 movie tickets for the price of one on BookMyShow App and website.
Kotak Mahindra Bank
Offers are available on all cards
10% discount on tickets booked on INOX Movies website and app.
IndusInd
Indulge, Pinnacle, Signature, Platinum, World Miles Platinum
Jet Airways Odyssey & Voyage, World Miles Signature, Iconia – Visa & American Express
Upto 1-3 tickets every month when you book on bookmyshow.com, but the number of free tickets varies on each card of IndusInd.
HDFC Bank
Titanium
25% discount on cinema tickets, upto Rs. 1,800+ in a year.
HDFC Bank
TimesCard – Titanium & Platinum
25% off on each movie ticket you book.
State Bank of India
Signature
Rs. 500 discount every month only on bookmyshow.com
Axis Bank
My Zone, Platinum & Titanium
25% cashback with an limit of Rs. 1000.
Please note that you will have to contact your bank for the updated information and the updated discount rates along with the terms and conditions which will be applied on you.